A University Archives recording preserves the 1966 visit by Lawrence Ferlinghetti, a key figure from the Beat movement.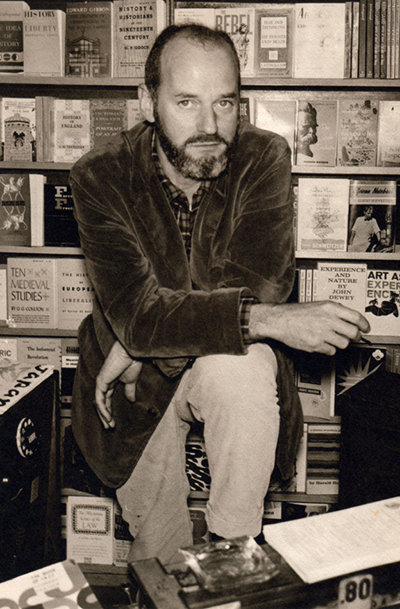 PHOTO courtesy of City Lights Bookstore
Ferlinghetti at age 40, 1959
Editor's note: In Old Gold, University archivist David McCartney looks back at the UI's history and tradition through materials housed in University Archives, Department of Special Collections, University of Iowa Libraries.
For this month's column, Old Gold was tempted to invoke the era of the Beat Generation by writing in free verse, complete with finger snaps. He then thought better of it, deciding to leave poetry to the poets. Nonetheless, Old Gold observes and reports, and this installment recognizes a milestone for one of the Beat movement's leading figures in literature.
Lawrence Ferlinghetti—poet, critic, political activist, and co-founder of City Lights Bookstore in San Francisco—recently celebrated his 100th birthday. In 1957 Ferlinghetti was tried on obscenity charges for publishing Allen Ginsberg's poem "Howl," a critique of modern-day conformity and censorship. Ultimately, the court ruled that "Howl" was not obscene, exonerating Ferlinghetti and his bookstore. Legal scholars hailed the ruling as a landmark victory in defense of the First Amendment.
Thanks to the trial—and a growing counterculture movement during the 1960s—Ferlinghetti's notoriety made him a high-demand speaker at colleges and universities across the country, including the University of Iowa. On the night of Oct. 24, 1966, he spoke to a capacity audience in Macbride Auditorium, his visit sponsored by Students for a Democratic Society and the Radical Arts Project. According to the Daily Iowan the next day, he "conducted a tour of the Coney Island of his mind" during his talk, a reference to his well-known collection of poems of the same name published in 1958.
Writing for the Daily Iowan, Tom Fensch described Ferlinghetti's poetry as "swirl[ing] before the mind's eye like a surrealistic parade in review. His poems resemble those of Allen Ginsberg, another apostle of the avant-garde, and also e.e. cummings, who wrote free-form, unpunctuated verse. Ferlinghetti is aware of the sounds around him; his poems echo the sounds of the street and the pace of life. His poetry is meant to be read aloud."
Fortunately for posterity, public radio station WSUI recorded that evening's event, and the audio tape eventually made its way to the University Archives. Audio preservationists recently digitally reformatted the recording so that his poetry as delivered on campus can again be heard and appreciated, more than 50 years later. Go on an hour-long tour of the Coney Island of the mind, where he begins with an impersonation of President Lyndon Johnson (note that the date in the link refers to the date of WSUI's broadcast, Dec. 7, 1966):
The event is also featured on the University Archives' online exhibit, "Uptight and Laid-back: Iowa City in the 1960s."
Upon further reflection, Old Gold should correct himself. "Leaving poetry to the poets" is not what Ferlinghetti endorses. Not at all. Indeed, he writes of poetry as insurgent art. In his work of that same name, he invites us all to participate. For that matter, he admonishes us to do so: "The state of the world calls out for poetry to save it."
---
Poetry as Insurgent Art [I am signaling you through the flames]
By Lawrence Ferlinghetti, Courtesy of the Academy of American Poets
I am signaling you through the flames.
The North Pole is not where it used to be.
Manifest Destiny is no longer manifest.
Civilization self-destructs.
Nemesis is knocking at the door.
What are poets for, in such an age?
What is the use of Poetry?
The State of the work calls out for poetry to save it.
If you would be a poet, create works capable of answering the challenges of apocalyptic times, even if this meaning sounds apocalyptic.
You are Whitman, you are Poe, you are Mark Twain, you are Emily Dickinson and Edna St. Vincent Millay, you are Neruda and Mayakovsky and Pasolini, you are and American or a non-American, you can conquest the conquerors with words...
---